31. Politzer Society Meeting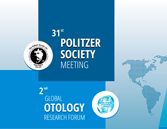 Place : Alfredo Kraus Auditorium / Spain
Date : 21/02/2018 - 24/02/2018
Contact Information : info@politzermeeting2018.com
Invitation
It is out pleasure to invite you to join the 31st Politzer Meeting Society & the 2nd Global Otology Research Forum that will take place in Las Palmas de Gran Canaria (Canary Islands - Spain) from February 21st to 24th , 2018.
This meetings will focus in presenting the latest researches studies and developments on the otology and neurotology fields. It will be also a chance to exchange the experience and knowledge from professionals coming from all over the world.
The Conference Board is fully committed to offer these events the highest scientific and organizing levels and wishes to welcome you personally in Las Palmas de Gran Canaria next February 2018.
Prof. A. Ramos Prof. M. Manrique

Organising Committee

Chairmen: Prof. A. Ramos, Prof. M. Manrique
General Secretary: Prof. C. Cenjor
Treasurer: Prof. C. Morera

Guest of Honor

International: Prof. B. Gantz (USA), Prof. J Magnan (France)
National: Prof. F. Antoli-Candela (Spain), Prof. E. Garcia-Ibanez (Spain)
« Go Back