21. Politzer Society Meeting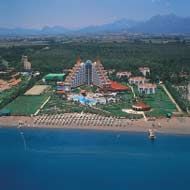 Place : Antalya / Turkey
Date : 07/06/1998 - 11/06/1998
President of the Society
Mansfield F.W. Smith MD
Chairman of the Meeting
O. Nuri Özgirgin MD
POLITZER PRIZE
Justin Weir MD (United Kingdom)
Differentiation of Cochlear Hair Cells in Vitro
Foreword by O. Nuri Ozgirgin
The 21st Annual Meeting of the Politzer Society was held at Antalya, Turkey, under the chairmanship of Dr. Nuri Ozgirgin from 8th to llth June 1998.This year's meeting was integrated with the Mediterranean Society of Audiology and Otology. Over 500 delegates from all over the world attended. The scientific program consisted of numerous instructional sessions, free paper presentations and panel discussions. The topics covered the surgical treatment of Meniere's Disease, complication of middle ear infections, tinnitus and other disorders of auditory perception, surgery for chronic otitis media with cholesteatoma, petrous tumor, otoacoustic emission, controversies in acoustic neuroma management, congenital malformation of the outer and middle ear, revision stapes surgery, advances in vestibular examination, middle ear implant and bone anchored hearing aids.
Organizing Committee and Mansfiled Smith
The instructional sessions were given by world renowned experts on specialized topics which were very educational. The panel discussions provoked many interesting exchanges. Perhaps the most important discussion was on the standardization of audio logical reporting after otological surgery. It was clear that there were differences between the European and the American schools.
There were special lectures on the middle ear gas exchange given by Professor Sade from Israel and on the educational implication of health service research in otology given by Doctor Edwin Monsell from the USA. There were many interesting papers given at the Free Paper and Poster Presentation. The Politzer prize this year was awarded to Dr. Justin Weir from the Department of Physiology, University of Bristol, UK, on the differentiation of cochlear hair cells in vitro.
The social program was most enjoyable and well prepared. There were many local tours organized by the Organizing Committee for the accompanying persons. Indeed, many delegates came with their families and took full advantage of the sun, sea and the Turkish hospitality. All in all, the meeting was very well organized, extremely educational and held in a friendly environment and at an exciting venue. I rate it as one of the best Politzer Society meetings I have attended over the last 12 years.
Report by M.W. Young, Consultant ENT Surgeon, Ipswich, UK.
Taken from ENT News 7:(4) 47, 1998.
« Go Back