26. Politzer Society Meeting

Place : Cleveland, Ohio / United States
Date : 13/10/2007 - 16/10/2007
Chairman:
Professor Gordon Hughes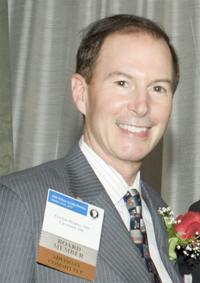 Professor Gordon Hughes
The Chairman of the Meeting
The 26th Meeting of the Politzer Society in Cleveland, Ohio, USA, October 13-16, 2007, was a great success!  The venue was the new InterContinental Hotel on the Cleveland Clinic campus with its 500-seat $60 million teleconference center.  300 registrants and 27 commercial exhibitors enjoyed 5 Guests of Honor, 14 Guest Speakers and Panel Moderators, 39 free paper podium presentations and a special poster review session. The $350,000 budget included a special evening at Cleveland's Rock and Roll Hall of Fame and Museum hosted by Advanced Bionics, a delightful Welcome Reception hosted by MED-EL, and a wonderful Gala Banquet topped off by a champagne toast!.  Highlights of the meeting included presentations by Guests of Honor Ugo Fisch and Bill House on "Life Experiences in Otology" and Guest of Honor Robert Shannon on "Auditory Brainstem Implants." Cleveland Clinic ENT Chairman Marshall Strome presented Guest of Honor Timothy Heidler, the world's only successful laryngeal transplant performed 10 years ago at the Cleveland Clinic, and Speech and Language Pathologist Douglas Hicks presented serial videostroboscopy and voice recordings of the transplanted larynx.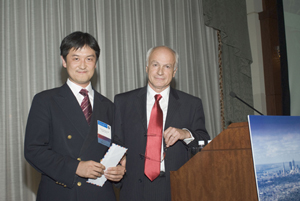 Tadashi Kitahara.
Clinical First Place Prize 1000 euros.
Effects of intra-endolymphatic sac application of
large doses ofsteroids for intractable
Meniere's disease: a randomized study
   At the Gala Banquet Guest of Honor Eiji Yanagisawa, MD of Yale University School of Medicine received a Lifetime Achievement Award.  In the Politzer Prize contest chaired by President Jacques Magnan, Pascal Senn won Basic Science First Place (1000 euros) for "Robust post-mortem survival of murine vestibular and cochlear stem cells."  Tadashi Kitahara won Clinical First Place (1000 euros) for "Effects of intra-endolymphatic sac application of large doses of steroids for intractable Meniere's disease: a randomized controlled trial."  Second Place (500 euros each) was shared by Felipe Santos for "Chemical genetics approach yields a novel class of compounds that protect mammalian hair cells" and Sertac Yetiser for "Analysis of time-dependent changes of neurotrophic factors (BDNF, CNTF) in traumatic facial nerve injury of a nerve-cut and nerve-crush model in rats."  A nostalgic highlight was Meeting President Gordon Hughes' visual presentation of "Memories of Politzer People and Places" at the Gala Banquet, a historical review of the Society from 1976-2007 with audience participation.  40 new members were inducted at the General Assembly meeting.  Everyone is looking forward to London 2009!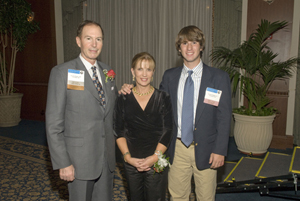 Hughes Family
Gordon Sr., Myra, Gordon Jr.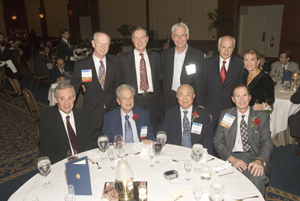 Standing left to right:
John House, Richard Wiet,Jens Thomsen, President Jacques Magnan, Myra Hughes Sitting left to right: Chairman Marshall Strome, Guest of Honor Ugo Fisch, Guest of Honor Eiji Yanagisawa, Gordon Hughes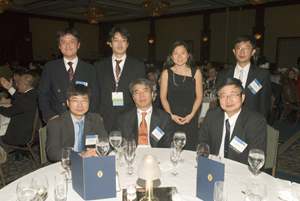 Sun O. Chang and Colleagues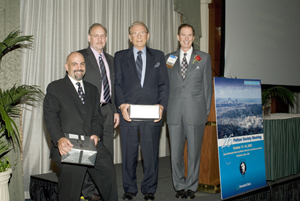 Senior executives of Advanced Bionics,
Cochlear Americas and MED-EL receiving recognition
awards for their generous support of the meeting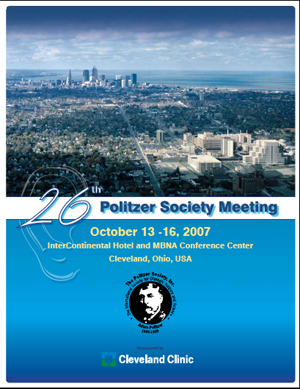 « Go Back