Otosclerosis - The 1st Politzer Global Microsurgical Broadcast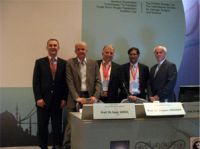 Place : Istanbul / Turkey
Date : 11/05/2010 - 11/05/2010
10:00am – 12:30am Live surgery:
Foursimultaneousliveoperationsperformedfrom: Turkey, Germany andTheNetherlands. FromIstanbulby: Jacques Magnan (FR) and Robert Vincent (FR) from Hannover by Thomas Lenarz (D) andfrom Utrecht byWilkoGrolman (NL)
02:00pm – 03:00pm Panel discussion on content of livesurgeries— Whyand How?
Moderator (fromIstanbul): Nuri Ozgirgin Panelists: Jacques Magnanand Robert Vincent (fromIstanbul), Thomas Lenarz (from Hannover), WilkoGrolman (from Utrecht).
03:00pm – 04:00pm Panel Discussion on RevisionStapesSurgery
(fromIstanbul)
Moderator: Nuri Ozgirgin (TR) Panelists (from Istanbul): ManoharBance (CAN), Jacques Magnan (FR), Michael McKenna (USA), SarpSaraç (TR), Robert Vincent (FR)
« Go Back